Good afternoon, once again it has been a little while since I have written a blog post. I have lots of ideas but getting settled to write is another task completely.
This post is not about eBay, Etsy or even very business related but I felt the need to write.
On my journey this year I became very interested in creating digitally. I have a crafting background so I thought what a perfect way to put my creativity into action. I watched endless videos about a program called Canva – there is a free version and it is well worth a look! It is easy and fun to use and You Tube has an amazing amount of help and tutorials available.
I am in no way affiliated with Canva but I do enjoy using it. It is perfect to create for Pinterest, Facebook and Instagram – the uses are endless.
Positivite Quotes and Encouraging Words
There are many things I love in life – one of which is positive quotes, affirmations and encouraging words. With this in mind, earlier this year I decided to create a selection of pocket size 'I AM' Affirmations that you can keep in your purse, handbag, wallet or give to a friend. There are 36 in total – they print on 4 x sheets of A4 card or paper and can then be cut to size.
As a gift to you – Download these for Free from the link below: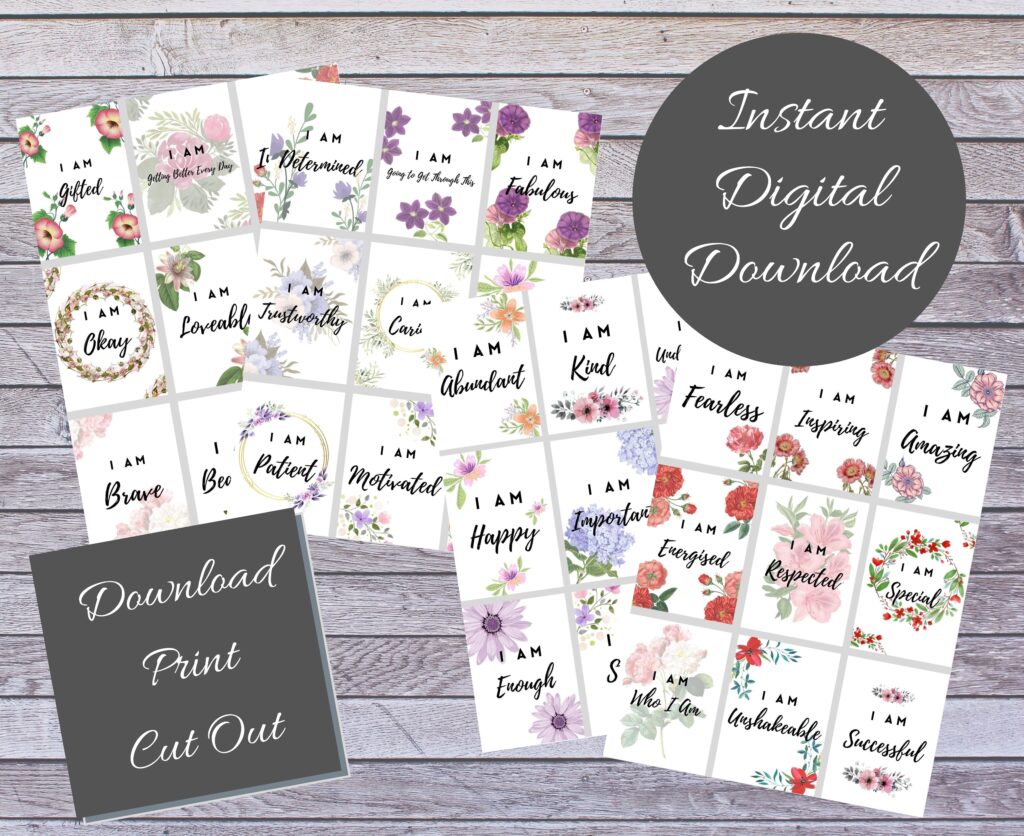 Extra Information
You will receive:
1 x PDF File containing 4 x A4 Prinable Pages – there are 9 x Mini "I AM" Cards on each page.

Download the file – then Print and Cut – Print as many times as you would like.

Print either on A4 paper or A4 cardstock and then cut out or trim with a trimmer. There is grey line dividing each card – this gives a guide as to where to cut.
PLEASE NOTE that colours can vary depending on the monitor, printer & paper you are using.
Terms & Conditions:
This item is for Personal Use only – commercial use is not available.
Thank you to everyone for taking the time to read this blog post. Your kindness and support is very much appreciated.
I will add the links to both my eBay and Etsy stores below, also don't forget Crafts Etc now have an online shop on this website.
Have a lovely afternoon.
Take care, Heather x
eBay: https://ebay.us/2ggthM
Etsy: https://www.etsy.com/uk/shop/CraftsEtcUK
Crafts Etc Shop: https://craftsetconline.com/shop/
Affiliate Links
Please note there are affiliate links on this website. If you click on them and purchase, I may receive a small commission. Thank you in advance for supporting me and my business.