It's Thursday again and I am just back from a small bargain hunt with a bag of goodies for eBay. It really is great when part of your work is shopping. 🙂
Before I start to unpack and organise my new stock, I decided another blog post was well overdue …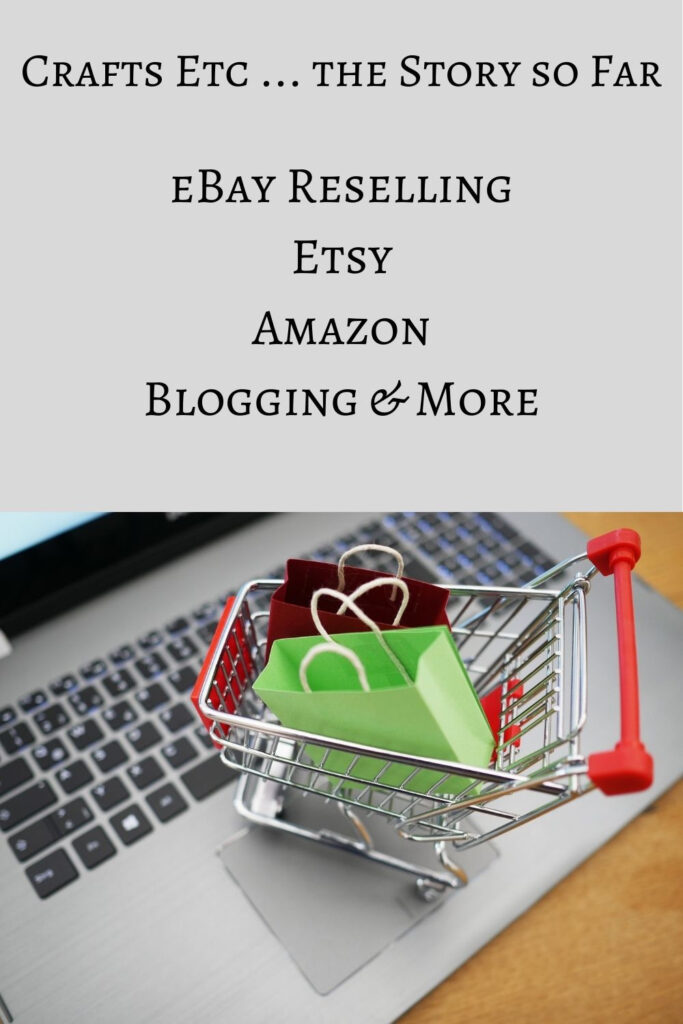 Research
Towards the end of last year and throughout 2021 I have been researching the many ways the internet can be used to generate an income and also ways to expand Crafts Etc. You Tube has been a valuable resource throughout this. I would add however that it can also be quite frustrating. On many occasions I would either get side tracked or spend too long on the computer. This inevidably lead to sore eyes (eBay eyes as I call it) and a sore head. I also clicked on many ads that seemed to promise me the world and then asked me to pay for a rather expensive course. While I do believe courses are great and valuable, I was determined to find the information I required for free. Being able to find, learn and implement the knowledge is very rewarding.
Where the Research led me …
The information and videos I have been interested in have very much focused on multiple streams of income. Also, like many others I have discovered that the internet is a valuable resource. Put these both together and add in that here at Crafts Etc I love selling, sourcing and writing and I came up with online marketplaces, this website and blog, dropshipping and affiliate marketing. Quite the mix – I know! I have also taken into account that I love all things tableware.
Affiliate Marketing
This is a vast subject and I am not sure you could ever stop learning about it. I was a little overwhelmed at first which made me put it to one side. However from the midst of one of the many videos I watched, someone said 'Just Start … even if it doesn't work out at first Just Start' so I did. While I won't go into it in this blog post as I think it may be the topic of another one way into the future, I will say I am enjoying the learning process.
Please note there are affiliate links and banners on this website. If you click on them and purchase, I may receive a small commission. Thank you in advance for supporting me and my business.
Crafts Etc Blog and E-Commerce Store
The Crafts Etc Blog was already up and running from my craft class days however last year my trusty website developer Inkwell Conceptual Design updated it to suit my newer business ventures. This is a wordpress website and incredibly easy to use, I am able to implement most elements of it myself with Inkwell always there if I get into difficulties. WordPress also has a fantastic plug-in called woo-commerce which I have now added. This has allowed me to have an e-commerce shop on my website. I am adding products to this on a weekly basis and am enjoying sourcing a rather interesting selection. This is quite the learning curve but I am enjoying the challenge. I have also been able to add products from my Etsy Store – this means when you click the buy button it will take you to Etsy to purchase.
Etsy
I opened my Etsy Store around the end of 2019 with a mix of craft raw materials, vintage china, a few digital downloads and 1 x tutorial. I do love the Etsy platform and was made aware that it can take a little while to generate sales. Sales did come but I found them very slow and very sporadic with no pattern at all. I watched endless videos and tried to implement most of the tips. The one tip that kept popping up during my research was to choose a niche. With this in mind at the beginning of June 2021 after more research I decided to end all my current listing and re-invent my store as a Personalised Gift Store. It was fun to do and on the 20th June I launched with 52 x Products. So far, sales appear to be at a more steady pace and I am very happy. I am growing my inventory weekly and being able to link them to this website is rather awesome.
Amazon
In April of this year I decided to become an Amazon Pro Seller and create a store front with a mixture of dropshipping products and the new products I had in stock. I already had an Amazon seller account so this was relatively easy. This costs £30 per month plus fees – my main reason for doing this instead of just operating as an individual seller was because I could set the postage to Free Postage. As an indiviual seller Amazon sets the postage per item so you have no control over it. I tried this for 3 x months and while my sales covered my fees, I decided there were not enough sales to warrant an extra expense within my business. Once the pro seller membership finished I spent an entire afternoon going through my Amazon inventory. I now have a variety of products that I feel are competitively priced with the postage. My fees are slightly higher now when I sell an item but I am only paying fees when I sell which makes me much more content.
Going forward my plan is to continue to grow my inventory and assess on a monthly basis.
eBay
Last but not least – eBay. I am a major eBay fan and have been for many years. This is currently the main part of my business and the one I spend the most time on. I am planning though that in the future each part of my business will have an almost equal footing. I am also planning that I will be able to take a little more time off.
Thank you all for taking the time to read this post. I have enjoyed writing it. I am excited about the future and all that it may bring for Crafts Etc.
Wishing You all a Fantastic Afternoon.
Take care, Heather